Nihongo Center is starting an online course for beginners from October 2020.
Right now we would like to know if what we are thinking of is appealing and we would like to have your comment about it.
It will be greatly appreciated if you could take the little survey below. Be sure to ready every part since the detail of the whole program is also written just after the survey.
For any question, you can contact us on the inquiry page or directly at support@nihongo-center.com
Thank you very much!
Nihongo Center
Admission office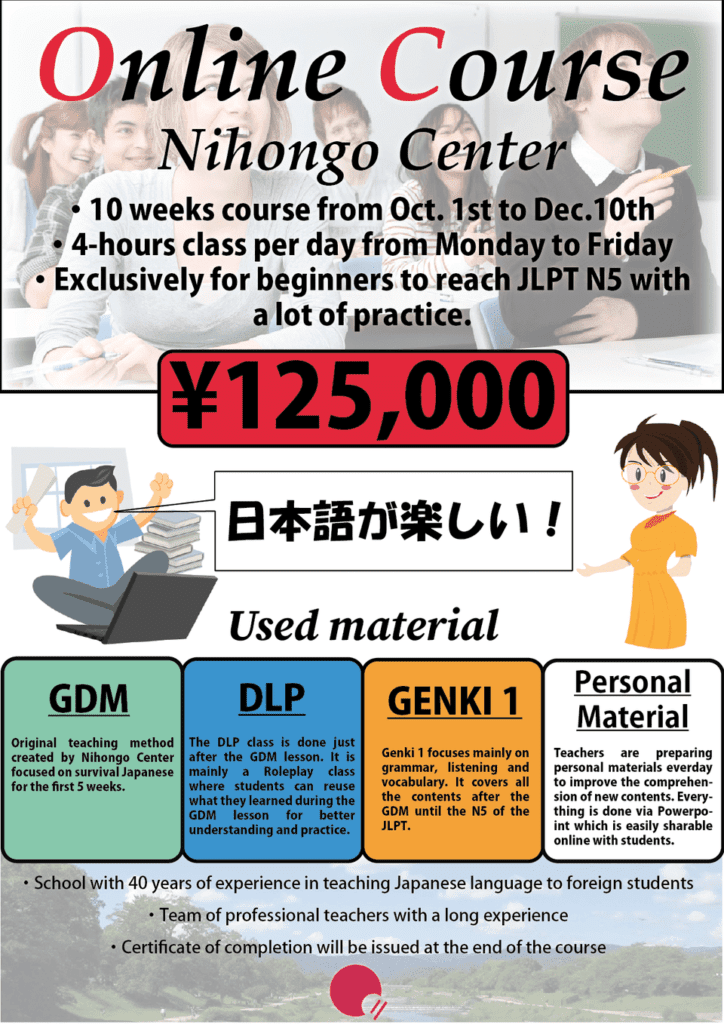 GDM (Great Direct Method)
GDM is an original teaching method created by Nihongo Center. It is focused on survival Japanese for the 5 first weeks.
GDM content can be found below:
Topic particle "wa" and "mo"
"Kore", "Sore", "Are"
Question words "Nan", "Dare", "Dore", "Doko"
Possessive particle "no"
"Kono", "Sono", "Ano" and question word "Dono"
Location particle "ni"
Subject particle "ga"
Verbal conjugation: Present, Past, Affirmative, Negative forms
Expression of the spatial position
Enumeration particle "to" and "ya"
Direct object particle "o"
Direction of motion particle "e"
Action particle "de"
Time particle "ni"
"Give and Receive", "Ageru" and "Morau"
"A-i" and "A-na" adjectives
Like and Dislike: "suki", "kirai"
Asking for a service "V-te kudasai"
Suggestion form "V-mashô"
Successive action "V-te, V-masu"
Expression of continuity "V-te imasu"
"Go and do something" form: "V-ni ikimasu"
Changing a verb to a noun or action "Vdict + koto"
Expression of past experience "V-ta + koto"
Expression of desire "V-tai", "hoshii"
Expression of self opinion "to omou"
DLP is directly done after the GDM lesson. It is mainly a roleplay class where students have to reuse what they learned during the GDM lesson for a better understanding and practice.