Testimonials / 學生的聲音
Hi, my name is Quentin and I am from New Caledonia. I have been in Japan for almost 2 years now, and I will be graduating from Nihongo Center in September. This school really helped me improve my Japanese and the teachers are great. When I started, I just knew "kanas" and a few "Kanji" but I took the N2 test last week and hopefully I will pass. What is great about Nihongo Center are definitely the students from around the world that you can meet and enjoy the Kyoto life with!

Quentin,

French

I have been in Japan since last year April. When I started, I knew very little Kanji. I could speak conversational Japanese but constructing my own sentences was difficult for me. Writing essays, doing class presentations and speaking Japanese in class helped me a lot compared to just be studying on my own. What I like about the Nihongo Center is that it has various events that let you immerse yourself in Japanese culture. The teachers are also supportive and assist students well in their studies and to adjust to life in Japan.

Arielle,

Filipino
Follow us
Follow us on social media and be the first to find out about our news!
Home » Application » Application Schedule
Application Schedule
Here you can find the different steps and detail of the application schedule for the student visa application.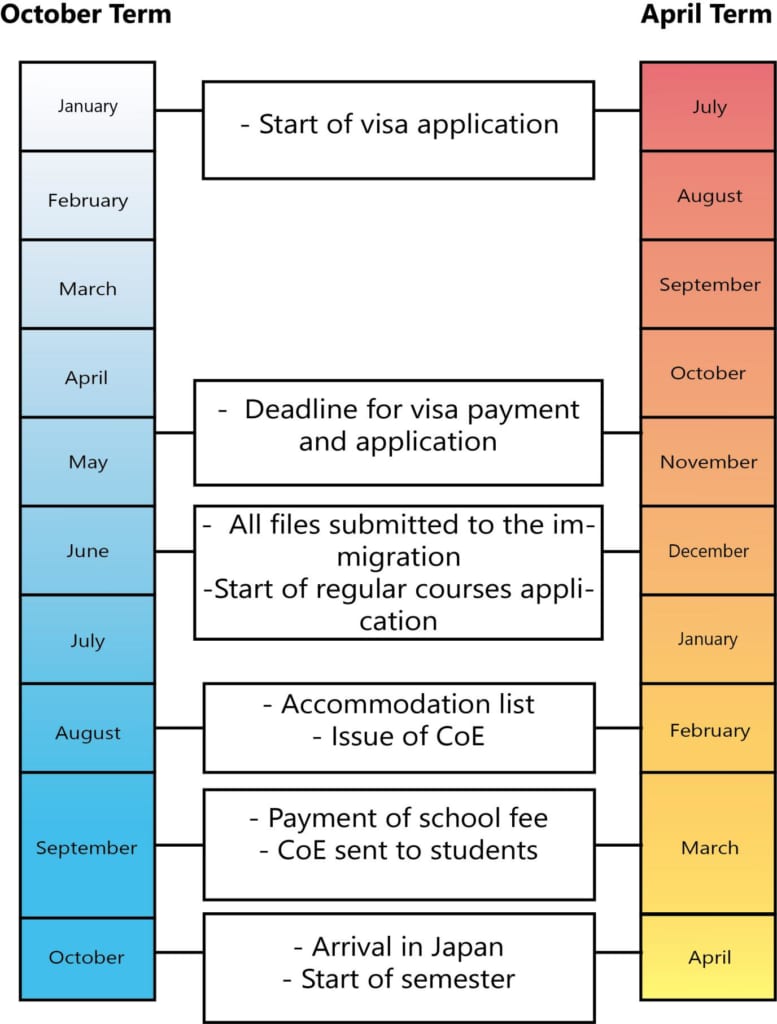 October 2020 and April 2021
※Student visa application for October 2020 is now over!
※Online lessons will also start in October 2020 for beginners. Be sure to check our programs page to have an idea of the content of this program.
※The application for a student visa for April 2021 intake has just started. Feel free to contact us if you want further information about it.
Further programs to be announced very soon.
Deadline / 期限
Application for April 2021
2020-12-01
Deadline / 期限
October 2020: Student visa
2020-05-31
Application for a student visa for October 2020 intake is now over.
Upcoming Events
There are no upcoming events at this time.